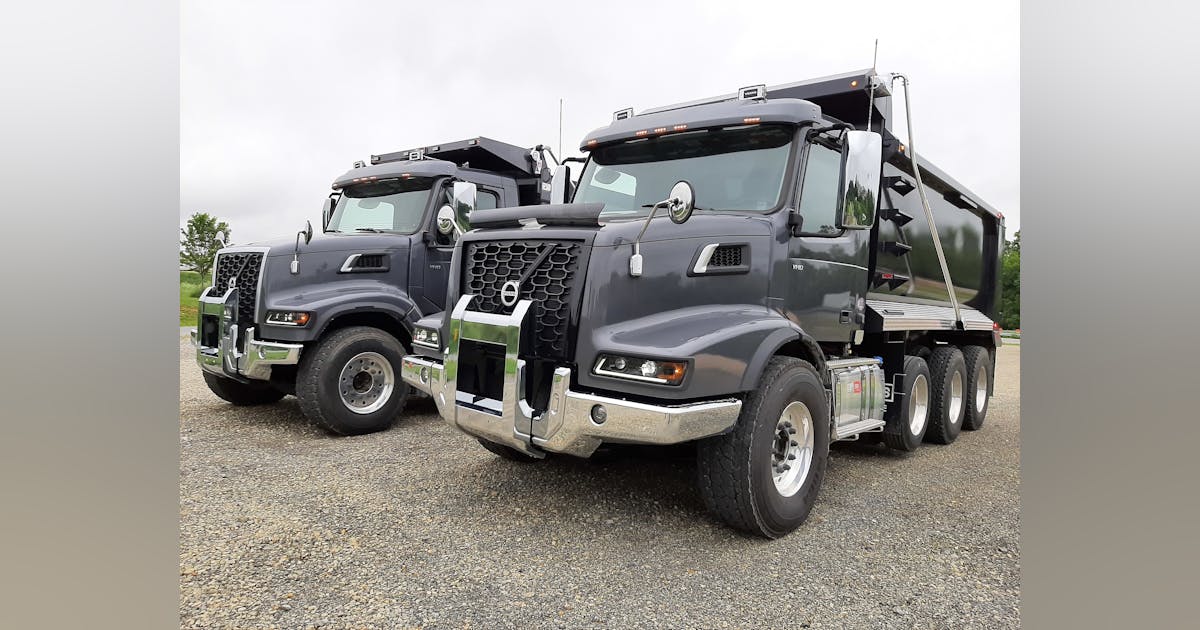 Volvo VHDs demonstrate robustness and comfort
People who have been hitting the highways for many years in Volvo's popular highway tractors might want to alter their careers by staying home and doing local trucking. And for them, the Swedish-American manufacturer has just the right thing: the VHD professional model, which uses the same basic and spacious cabin of the VN series, as well as the comfort and safety advantages for which the Volvo. Inside, they are packed with electronic safety and communication equipment to make the days of drivers and managers more efficient. They are also highly resistant to the rigors of off-road racing.
See inside professional VHD trucks.
Our featured trucks had bold, modern styling, especially along the fenders, and sleazy housings for the LED headlights. The VHDs received a facelift in 2019, around the time the Covid pandemic began which cut off all the attention the refreshed models received. North America, anyway, has mostly resumed normal operations. Hence the timing of this driving experience with the remade series.
Gathered at the Volvo Trucks Customer Center adjacent to the sprawling plant in Dublin, Virginia, the two VHDs were configured as dump trucks, one with a front steering axle and the other with a rear axle. They are intended for states with axle formula and axle weight laws, respectively, so they differ in wheelbase and other chassis issues. Both were 300-series day cabs with no sleeper (400-series designates a 42-inch-long flat-top full sleeper). They wore fashionable storm gray metallic paint, a stylish amount of shiny metal trim, including massive grille guards, and 80,000-pound capacity center-mounted tow hooks.
Each had a Volvo D13 diesel (the only other engine choice is a D11) driven by a 13-speed I-Shift HD automated manual transmission and Meritor rear axles damped by Volvo's T-ride suspension. Before tandems, each had a single lift axle: a rigid, dual-wheel pusher on the rear-axle vehicle, like the three-axle dumpers you see in Pennsylvania, and a steerable unit with large single tires for the single-axle truck. before. . In "super dump" states, trucks with forward (and sometimes rearward) steered axles have longer frames and two, three, or even four steerable tappets; but for these demo trucks, Volvo showed its ability to fit a single lift axle at the factory.
Guided by Andy Hanson, head of Volvo's professional segment, I drove the two trucks around the customer center premises which include a paved dog bone track just over a mile long, speeding at 55 and 60 mph, then braking to test stability during deceleration. We also did several trips on a gravel off-road course with short straights, brief but steep hills and depressions that collect water when it rains, although it was mostly dry on this late May day. Hanson said all new trucks are driven to the track to test for faults that inspectors missed on the assembly line.
Test Drive Highlights
These dumpers didn't seem to have any issues, and I mostly observed how they felt and behaved. They were pretty nimble, even with dual steering gears and wheel stops necessitated by their 20,000-pound axle ratings and beefy front tires. I circled in a wide spot on the off-road course to compare the two trucks' turning arcs; of course, the rear-axle VHD, whose wheels had room to cut a little sharper, had a smaller radius—about 20 feet or so—than the front-axle truck.
Acceleration was quick as the dumpsters only had moderate loads, and the I-Shift automated transmissions shifted quickly and efficiently in most circumstances. When cresting a steep grade, however, a transmission's controls had to think for a moment or two before deciding on an appropriate gear, then went for it and we continued on our way. We never ran out of gears, especially with the extra creeper that's added to the standard 12-speed gearbox (a 14-speed version with two creeper ratios is also offered). Even during rough upgrades, the truck started hard and always applied authoritative power, and always with quick but smooth clutch applications. A hill-hold function applies the brakes when the truck comes to a stop while leveling, then releases them after three seconds; by then I was back on the throttle and the truck resumed its climb.
Hanson demonstrated an I-Shift feature that mimics a driving trick known to experienced speed scramblers who get stuck in mud or sand: hold the thumb-operated toggle switch on the shifter up and push the accelerator; the engine revs to 1,300 rpm and holds, with the transexual in temporary neutral. Then release the switch and the power returns through the gears to the rear wheels, releasing them, and the truck drives forward. There's no slamming feel, just a snappy, smooth power.
It reminds me of an observation I made years ago: automated gearboxes are excellent on the road, where their solid, continuous power delivery is satisfying for someone who finds driving fun. They do quite well off-road, though, and do even better if the driver knows their tricks, like the one just described. An Allison automatic torque converter, however, requires less skill from the driver, who can simply leave it in Drive mode and mash the gas, and the power flows continuously without a pause. And yes, Volvo will sell a VHD with an Allison, but it's more expensive than an I-Shift HD; and it will also equip VHDs with less expensive Eaton manual transsexuals, for that matter.
Incidentally, an I-Shift works both down and up the gear ladder. The sharp downshift was particularly useful when the engine brake was activated. This way the engine rpm was kept relatively high, around 1,400 to 2,000 rpm, so the retarder worked hard to control the truck on downhill grades. Along with that, the rapid knocking noise from the exhaust came as the engine acted like an air compressor and slowed the drive wheels. It almost goes without saying that the service brakes were also powerful, but they were less necessary, thanks to the engine retarders.
A useful option on the VHD and other models is Volvo's Dynamic Steering, which uses an electric motor on the steering column to add torque to the driver's steering effort. To demonstrate the ease of control, Hanson had me steer into a deep, concrete-lined gutter along the left side of a trail. I expected to have to fight with the steering wheel to maintain control, but that's not the case with this feature; I didn't even have to hold the steering wheel firmly as we rolled along the trench, left wheels in and right wheels on level pavement. The device is shared with Mack, a sister company belonging to the Volvo Group, where it is called Command Steer.
Volvo's biggest commercial success is its truck tractors, and Mack prides itself on its image as the dominant builder of professional trucks, including dumpers and mixers. Most brand dealerships sell both brands and seem to play with each manufacturer's perceived strengths. Thus, Volvo's VHD has only a small part of the professional business. But that makes it distinctive, I think, and VHD should appeal to older motorists who know Volvo's virtues and anyone who appreciates comfort and capability.