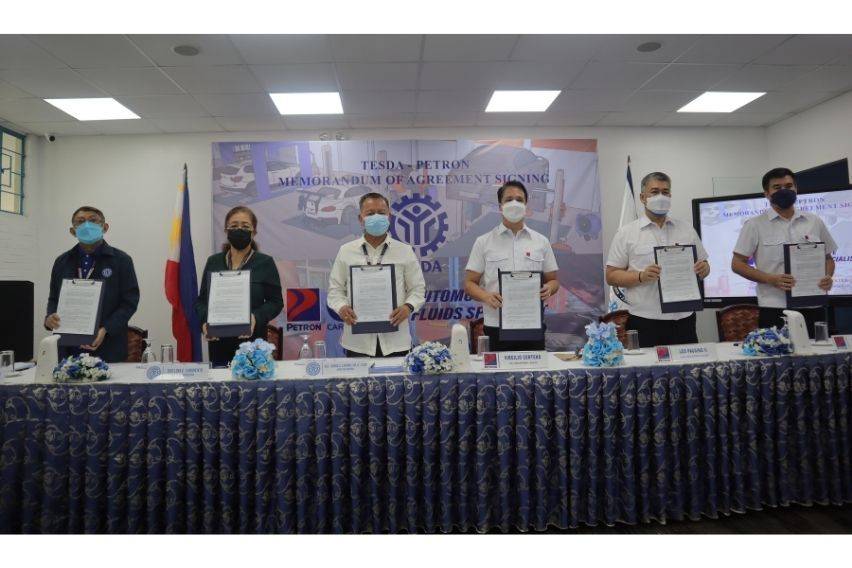 Petron Supports TESDA Automotive Service Training Program
MANILA: Petron Corporation has partnered with the Technical Education and Skills Development Authority (TESDA) to provide free technical and vocational training in automotive servicing, meeting the nation's need for more skilled workers.
KEY POINTS TO REMEMBER
When will Petron's new training center begin operations?
The new training center is expected to open in June.
How many students can Petron's new training center accommodate per year?
The training center will be able to accommodate approximately 250 students per year.
Petron will help enhance TESDA's existing automotive service training program by establishing a comprehensive automotive service center setup modeled after the Petron Car Care Center (CCC).
The partnership was officially established on Friday, March 4, with the signing of the Memorandum of Understanding (MOA) by TESDA Secretary Isidro Lapeña and Petron Corporation Vice President for Industrial Sales Virgilio Centeno at the TESDA Taguig complex.
Petron Car Care Center serves as a one-stop-shop that offers the brand's full line of technologically advanced and globally recognized mineral and fully synthetic automotive lubricants.
Petron Car Care Center can be found at Petron gas stations and as stand-alone service stores. It also provides a full range of professional vehicle maintenance services, from minor to major repairs, as well as tire services such as wheel balancing and alignment. They have well trained technicians who offer affordable yet high quality preventive maintenance services. Currently, there are 47 Petron Car Care Center and Car Care Center Express branches across the country.
"Petron recognizes the power of education and proper training in building a society. We welcome this opportunity with TESDA to use one of our strengths as an industry leader to empower our less fortunate compatriots so they can lead better lives. It can also meet our country's need for more skilled personnel while increasing our productivity as a nation, especially with the pandemic still unfolding," Centeno said.
The TESDA-Petron CCC will exclusively use Petron's world-class automotive oils to ensure the highest level of service. The oil company will also collaborate with TESDA to create training modules tailored to their needs to prepare for future job opportunities.
"We are optimistic that this venture will create better and more comprehensive learning experience for the Filipino workforce, preparing it for the challenges of the fourth Industrial Revolution and the Changing World of Work", Sec. Lapeña said.
The Petron Foundation, the oil company's corporate social responsibility (CSR) division, has always been at the forefront of promoting hope through education. Its flagship education program, Tulong Aralng Petron (TAP), has more than 18,000 scholars nationwide.
Due to the high number of out-of-school youth, Petron launched the Petron Automotive Care Education (ACE) program in 2015, which trains eligible residents of Petron's gated communities to become licensed mechanics at TESDA-accredited partner institutions. Those who complete the program and earn their National Automotive Service Certificate (NC) II license enjoy at least two years of employment as mechanics with Petron CCC and Lube Bays.
This new partnership with TESDA complements Petron ACE by providing support and empowerment to more Filipinos. It also aligns with San Miguel Corporation's commitment to ensure its stakeholders prosper with the company's continued growth.
The new facility is expected to open in June and will accommodate approximately 250 students per year.
Image by Petron Corporation
Also Read: Petron Taps Brandon Vera as New Rev-X Endorser