Five years later, work on Damen Green Line station is due to start this month
NEAR WEST SIDE — Five years and two grand openings later, the highly anticipated Green Line stop at Lake Street and Damen Avenue will open later this month, officials said Friday.
Plans for a new Damen Green Line station were first announced in 2017 by former mayor Rahm Emanuel. The new station, near the United Center, is intended to fill a 1-1/2 mile gap between existing Green Line stations in California and Ashland.
Preparatory work for the station, which included the relocation of utilities and underground work to reinforce the column foundations, was completed last year. But supply chain issues added to the delay, Chicago Department of Transportation officials told Block Club.
Construction is expected to take 18 months, officials said.
The new stop will be the third run by Ald. Walter Burnett Jr. (27th), who believes the shutdown will right a historic wrong by providing public transportation in an area that has public housing.
"It's great for people who live in social housing, but it's [also] great for the industrial area, great for Malcom X, great for the United Center, great for the medical district," Burnett said.
The shutdown will also serve seniors who can no longer drive and millennials who don't want to drive or don't have a car, Burnett said.
When asked if he was worried the project could be delayed again, Burnett said he was "hoping for the best".
"They've got all the deals, they've got the contractors, all those things [and] we just did a job fair about it on Wednesday, so I think it's going in the right direction," he said.
The project was originally estimated at $50 million, but was eventually valued at $80.2 million when the contract was awarded last year to local construction firm FH Paschen.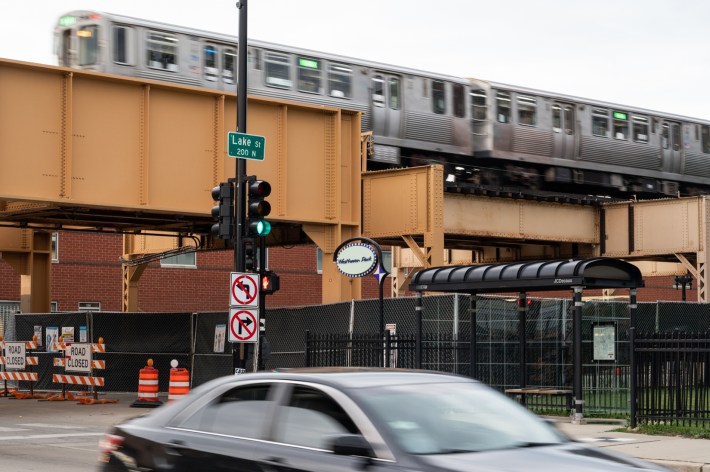 State funds and Tax Increment Funding (TIF) dollars from the Kinzie Industrial Corridor will pay for the new station. Designated in 1998, the Kinzie Industrial Corridor TIF District, which spans parts of Humboldt Park, West Town, East Garfield Park and the Near West Side, is scheduled to expire in 2022.
Burnett and transportation officials said the Kinzie TIF district extension process is underway.
Listen to "It's Alright: A Block Club Chicago Podcast":