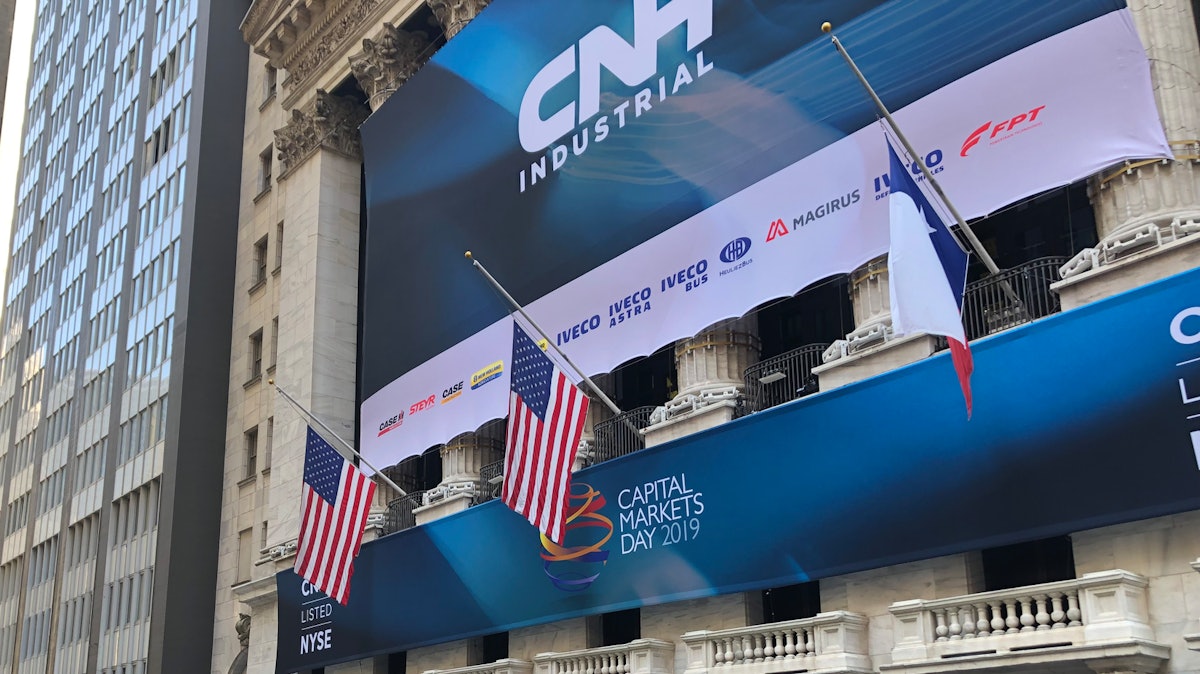 CNH Industrial and Iveco begin operations as separate companies
CNH Industrial, parent of Case Construction Equipment and other construction and agricultural brands, and its former IVECO commercial vehicle business began 2022 as separate businesses. On the first business day of the year, January 3, CNH began listing on the New York Stock Exchange (NYSE) in the United States and on Euronext Milan of Borsa Italiana in Italy as a fully-focused player. agriculture and construction. On Euronext Milan, trading in Iveco Group NV shares has started.
Businesses first announced in 2019 a separation of CNH's on-road and off-road business. Since that initial announcement, business leaders have worked to establish new organizational structures and long-term priorities for both companies.
READ MORE: CNH Industrial outlines new strategy to secure future growth
According to a CNH press release regarding the split, the decision was made based on differing regulatory and customer requirements for on-road and off-road businesses that are affected differently by accelerating megatrends in the industry. 'industry. The split aims to maximize management focus and flexibility, align investment priorities and incentives, better meet respective business needs, and optimize each company's cost and capital structure to generate profitable growth, CNH said in its press release.
"We are delighted to inaugurate the new CNH Industrial, the result of detailed strategic planning, hard work and boundless determination. I would like to congratulate our entire team, and our management team in particular, for have carried out this project and thank the board of directors for having carried out this operation.As a pure player in agriculture and construction, we will devote all our attention to supporting our customers. and dealers: developing innovative products and processes to drive productivity, accelerate profitable growth, and spearhead our ambitious ESG plans to ensure we act with full respect for people and the planet," said Scott W. Wine, President and CEO, CNH Industrial, in the company's press release announcing the start of the split business. "I would also like to wish our former colleagues, and now our respected peers, of the new Iveco NV group every success as they begin their independent activities and start trading on Euronext of Borsa Italiana."
CNH unveils new structure to grow dedicated off-road business
CNH has created a new organizational structure aimed at helping its business now focused on the construction and agriculture industry succeed in these markets. According to the company, the main strategic objectives will seek to meet the company's vision of sustainably advancing the noble work of construction and agricultural workers around the world. Brands under the CNH Industrial umbrella include Case Construction Equipment, New Holland Construction, Case IH, Steyr and New Holland Agriculture.
"We are implementing a new organizational structure and strengthening our management team to focus more on customers and dealers, improve productivity and accelerate profitable growth," Wine said in the press release. CNH announcing the new organizational structure. "This new structure promotes agility, eliminates unnecessary bureaucracy and promotes clear accountability as we execute on our strategic priorities and create value for our stakeholders."
Various alternative energy machine concepts from CNH Industrial's various brands were showcased at its capital market days held at the New York Stock Exchange in 2019, where it announced the split with Iveco.ACBM StaffCNH says it plans to support customers and dealers by having an inclusive and diverse workforce, developing innovative technologies, and providing the highest quality and safety. The new management team will help the company achieve this mission. As CEO, Wine will oversee three Global Business Units (GBUs) led by the following individuals:
Agriculture – Derek Neilson, President
Construction – Stefano Pampalone, President
Financial Services – Oddone Incisa, President
The following companies and leaders are integrated into the GBUs and are responsible for driving strategic growth:
Corporate regions
North America – Brad Crews, President
Europe, Middle East and Africa – Carlo Alberto Sisto, President
Latin America – Vilmar Fistarol, President
Asia-Pacific – Chun Woytera, President
Business functions
Digital & Precision – Parag Garg, Chief Digital Officer
Technology & Quality –

Jay Iyengar, Director of Technology and Quality
Supply Chain – Tom Verbaeten, Director of Supply Chain
CNH's Industrial Trading System – Scott Moran, Director of CNH's Industrial Trading System
Iveco builds on its heritage while focusing on innovation
The new Iveco company comprises the Commercial and Specialty Vehicles, Powertrain and Related Financial Services businesses of CNH Industrial NV Gerrit Marx has been appointed Managing Director of the company which encompasses more than 170 years of history between its brands. Trucks, buses, firefighting and civil protection vehicles will be part of the product portfolio along with FPT Industrial-branded powertrain solutions for on- and off-road equipment, marine and power generation. electricity.
Iveco indicates in its press release announcing its first day of trading as a separate company that it will place a strong emphasis on innovation and the development of advanced and sustainable solutions, including low and zero emission powertrains, cloud-connected driver assistance systems and the exploration of emerging autonomous driving technologies and entirely new business models. It will do so through various partnerships, such as the the one he formed with Nikola.
In total, Iveco is made up of:
8 brands,
31 research and development centers and
34,000 people in its workforce.
The company says it will have a global presence with a strong base in Europe.
"Our first day of trading marks a historic milestone as we become a fully independent company. I would like to thank our Chairman, Suzanne Heywood, and our Board of Directors for bringing this spin-off transaction to a successful conclusion and the entire team of the Iveco Group for taking We have all the necessary conditions for long-term success, including a solid foundation, a focused team and a clear strategy, which will allow us to act quickly, innovate and combine to create best solutions in today's rapidly changing environment," Marx said in Iveco's press release.
January 3, 2022 marked the start of trading for the new Iveco Group on the Italian stock exchange.Iveco Group"We are also prepared to address the global challenges of climate change, directly engaging the environmental, social and governance dimensions of our public responsibility. We are committed to transforming not only our business but also our industry, drawing on our experience pioneering solutions in the most advanced areas of road transport and propulsion, including alternative fuels, autonomous driving and new business models. The whole Iveco Group team and I are deeply grateful for the years that we have shared with CNH Industrial and are confident that our former colleagues will continue to make progress in agriculture and construction. We are excited to embark on this next chapter, aware that we will face challenges, but guided by a path and a clear vision: we are definitely on the way to a new energy future . »
In November, Iveco announces its commercial strategy and financial ambitions for 2026. Becoming its own business entity will allow Iveco to better seize market opportunities and develop products that will meet evolving customer requirements. Among these will be the need to develop solutions that comply with increasingly stringent emissions regulations.
To help differentiate from the previous corporate identity, a new name and logo for the company was announced. Iveco has decided to keep the name with which it started in 1975 – and which means Iindustrial VEcarriages COrporation-in honor of its heritage. The new company logo puts a new spin on the appearance of the name of the previous logos and integrates the various brands of the group.
Iveco also announced an organizational structure and management team designed to help the company achieve its business goals. According to a press release on the subject, the structure of the Iveco Group is designed to be customer-centric, accountable and performance-driven. Its delimitation derives from the The Business Units, which include the following companies with their respective brands:
Truck (IVECO),
Bus (IVECO BUS and HEULIEZ),
Powertrain (FPT Industrial),
Defense Vehicles & ASTRA, Fire Fighting (Magirus) and
Financial Services (IVECO CAPITAL).
"With this structure in place, we are ready to embark on our exciting future. well-defined roles and responsibilities that complement each other Its design will generate a positive ripple effect through to other layers of the organization, focusing on key business objectives and identifying the best ways to serve our customers, to cooperate with our partners and reward our shareholders," Marx said in the company's press release.