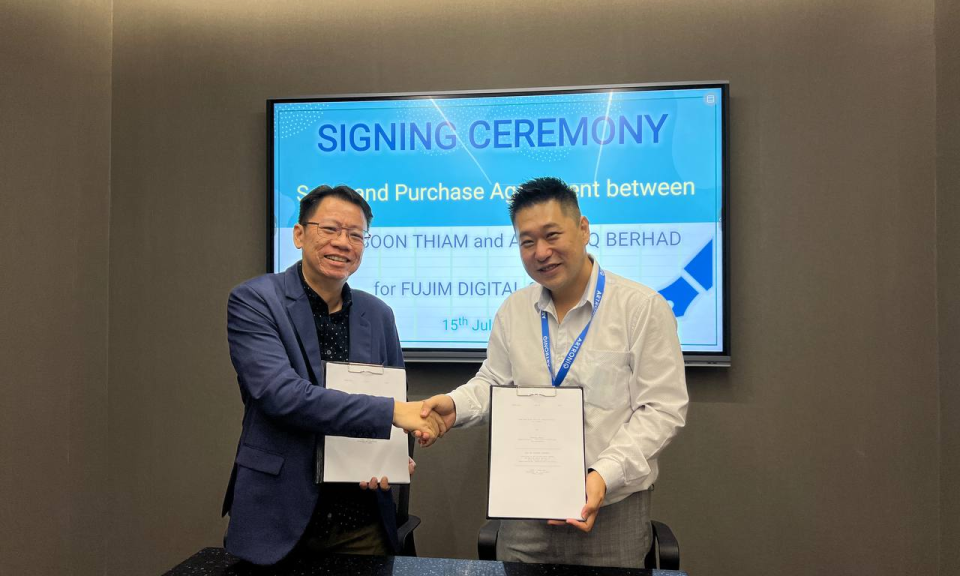 Artroniq acquires precision engineering company for RM12 million
Bursa Malaysia listed on ACE market Artroniq Berhad ("Artroniq" or "Company" or "Group") has entered into a Conditional Sale and Purchase Agreement ("CSPA") to acquire 60% participation in a precision mechanics company – Fujim Digital Sdn Bhd ("FDSB") for RM12 million ("Proposed Acquisition").
The proposed acquisition comes with a profit guarantee of no less than RM2.1 million for each period from May 1, 2022 to April 30, 2023 and from May 1, 2023 to April 30, 2024, respectively.
Managing Director and CEO of Artroniq Mr. Chin Yew Thong (曾耀堂) said, "We look forward to the completion of the acquisition of Fujim, which will place us in the precision engineering sector. The proposed acquisition will help the Group reduce its dependence on a single company and provide a new source of revenue as we aim to participate in the robust growth of the engineering support services industry.
Currently, the ICT business is Artroniq's only source of income following the cessation of operations in the business of manufacturing resin compounds for wire and cable and resin compounds for other industries on September 22. 2020.
"The alternative revenue stream for the Group will help rejuvenate the recovery in the post-COVID era for Artroniq. I am optimistic that shareholders share the same enthusiasm as management for the potential of the high precision machinery industry and vote in favor of the proposed acquisition at the next Extraordinary General Meeting ("EGM")," Chin said.
A filing with Bursa Malaysia today shows that the proposed acquisition, which involves the acquisition of 156,000 ordinary shares of FDSB from Teoh Boon Thiam, will be satisfied through cash of RM6 million and the balance through the issuance of new ordinary shares of the company. At the same time, Artroniq also proposes to diversify its main existing activities towards precision engineering. The proposed diversification is necessary after the proposed acquisition to facilitate the Group's adventure in the new activity.
FDSB is a Penang based company involved in precision engineering, particularly in the trading, manufacture and design of jigs and fixtures, precision tooling components, machine parts and related products, as well as in research and development with mechanical suppliers. It provides one-stop manufacturing solutions from design to production, equipment tools and support to satisfy assembly needs.
FDSB Shareholder Mr. Teoh Boon Thiam (张渂添) said, "We believe this proposed acquisition will help accelerate the company's expansion plan. The precision engineering industry has strong growth prospects and will see tremendous demand as the global economy recovers from the pandemic.
As a key support industry for manufacturing, the outlook for precision engineering is positive with its strong demand. FDSB currently supports various industries such as information technology, semiconductors, and automotive industries. The company has a large customer base, both in the local and international market.
In July 2022, FDSB was included as an approved supplier to tender new contracts with 3 multinational companies operating in the automotive (China), lighting (Europe) and semiconductor and microchip ( United States).
Going forward, FDSB is also looking to expand its product offerings to meet the needs of customers operating in the oil and gas industry. This will allow the Group to tap into a wider customer base and create a more sustainable revenue stream.
---
This content is provided by Aegis Communication Sdn Bhd.
Interested in having your ads on Malaysiakini? Contact the announcements team at [email protected] or WhatsApp at +60 17-323 0707 for urgent questions.