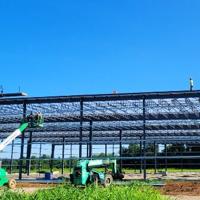 $500,000 State Grant for Mayde Road Specification Building | New
Berea's first specification building on Farristown Industrial Drive is expected to be completed as early as October. The town of Berea was recently informed that it had received a $500,000 grant to construct a second purpose-built building on Mayde Road.
Mayor Bruce Fraley thanked Berea Town's economic development team last Tuesday after announcing that Berea Industrial Park will soon be getting a new spec or 'spec' building to attract a future employer to Mayde Road.
"The Town of Berea received a $500,000 grant to support improvements and economic growth in Berea. This is the development of a ready-to-build site on Mayde Road which would be right next to Hitachi Astemo Motor Electric Systems," Fraley told council members. "This was part of the Product Development Initiative (PDI) pilot program, and we were one of the first in the state to receive a PDI grant."
The grant will fund a 150,000 square foot pre-designed, ready-to-use site and allow work to begin on road infrastructure, utility extensions and land clearing on a 35-acre parcel in the Industrial Park of 87 acres, according to state officials.
As growing businesses are constantly looking for properties and buildings around 100,000 square feet or more, the new specification building will provide a potential business with the opportunity to quickly set up shop in Berea and get started faster, instead of buying land and then building a workspace.
Fraley praised various staff and consultants, noting that it took a combined effort to get the city the outcome it wanted in securing the grant.
"I am very grateful to our economic development team, especially Lucas Witt [of MWM Consulting]. Also, [Berea Business and Tourism Development director] Donna Angel was involved, and it was also a real team effort because the city administrator was involved, the city attorney had to be involved, and the city engineer and the city council. You have all been involved in this process. So it was a great example of real teamwork," Fraley added.
At the time of the announcement, Fraley also thanked state officials.
"The City of Berea and the Berea Industrial Development Authority are very grateful for the funding provided by the Kentucky Economic Development Fund and all of the support from the Kentucky Cabinet for Economic Development throughout the PDI grant process. It is a great example of partnership between the Commonwealth and local communities to help bring projects to life that would not otherwise have happened," said Mayor Fraley.
"This joint investment will allow us to begin development of a 35-acre parcel well positioned on I-75 and connected to our existing industrial park. I appreciate the opportunity to work together with the Cabinet for Economic Development to make Kentucky more attractive to potential business and industry. This investment should make us all very optimistic for our collective future.
Fraley noted that one of the benefits of the city constructing a specific building is that it allows the Berea Industrial Authority to be selective about who moves in.
"We intend to grow this responsibly and be very selective, seeking out the best employer and the best candidate for our city as we move through this process," Fraley said.
The spec building is the second of two coming to the Berea Industrial Park. The first facility, currently under construction by MP Kelly Design & Construction, is progressing well on Farristown Industrial Drive.
The 50,000 square foot building located near Farristown Middle School is built on approximately 11 acres. MP Kelly is investing around $3 million in the project.
Despite some weather setbacks, deputy site manager Jacob Rose said the building could be finished as early as mid-October.